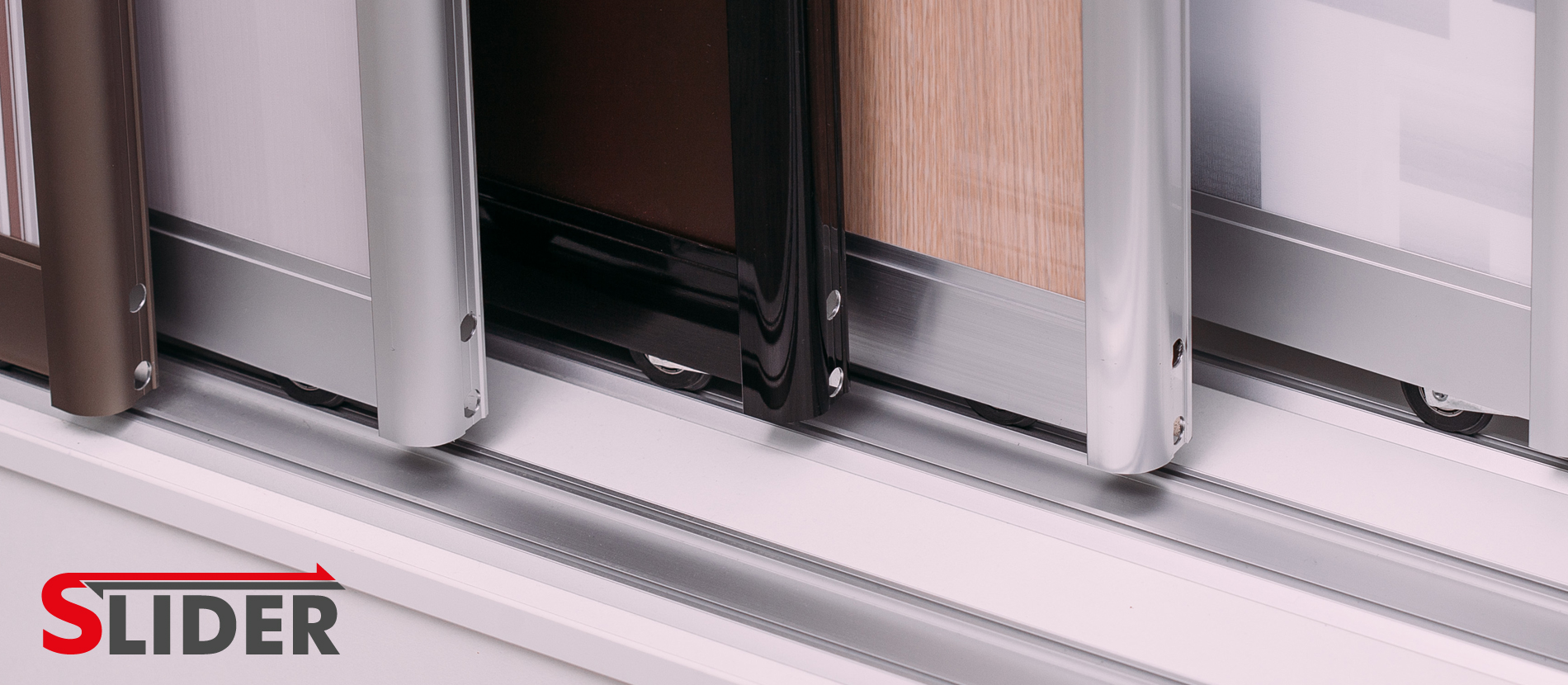 Slider™ presents systems for sliding doors.
The main positioning and emphasis of the brand provides the optimal price to quality ratio, as well as offering practicality and a modern appearance.
Benefits:
Control at all stages of the production, which ensures the absence of defects.
The shortest possible time of production.
Profiles are made of high quality 6063 aluminum alloy on professional automated equipment, which ensures a long service life of sliding systems.
Delivery of products by a specialized vehicle excludes damage during movement.
A wide range of configurations and decors make it possible to create an aesthetically pleasing product design for the consumer.
The assortment of profiles complements the range of products that can be ordered from our manufactory.
In addition, we have all the accessories for the installation of systems - guides, rollers, brushes.
With us you will receive a complete solution for sliding doors - profile, accessories, cutting, assembly, filling.
Slider FUSION is a thin profile of unusual shape in trendy decors will not just be a frame for the filling, but will become a detail that emphasizes the designer's idea.
Slider Modus, global trends dictate new shapes for sliding doors. Today, these are thin lines with clear geometry designed to focus attention on filling and at the same time maintain ergonomics and comfort of use.
Slider Premium is a profile with a metal thickness of 1.4 mm ensures reliable operation of the systems and is suitable for creating doors 3.2 meters high and 1.2 meters wide. Suitable for cabinets with heavy filling. An excellent choice for premium furniture.
Slider Expert is the optimal solution for most sliding systems. The most popular profile configuration and the best value for money.
Slider Avenue is a wide and comfortable premium profile in the trendiest decors. The thickness of metal is 1.2 mm.
Slider Castle is a closed profile. An excellent solution for creating interior partitions. A wide range of colors will perfectly integrate sliding doors into your interior.
Slider Trend has a profile shape that will emphasize the individuality and sophisticated taste of your interior. The glossy surface will add extra shine to your furniture.
Slider Hard is a closed H-shaped profile. It is the right choice for Hi-Tech and LOFT interiors. The shape and thickness of the profile walls make it possible to use it for cabinets with heavy filling and massive interior partitions.
Slider Quadro is a super-wide closed profile that emphasizes the massiveness of the furniture and makes it look more solid. Clean lines and geometry are a feature of this profile.
The Slider Line is a slim, ergonomic profile that can be used in shallow cabinets, for example, in a hallway. After all, the width of the guides is only 40 mm.
Slider Air is a very narrow vertical and horizontal profile. This configuration will give the product an elegant appearance and lightness for the whole structure.
Slider Project is a popular and affordable profile configuration that is ideal for the production of serial furniture.