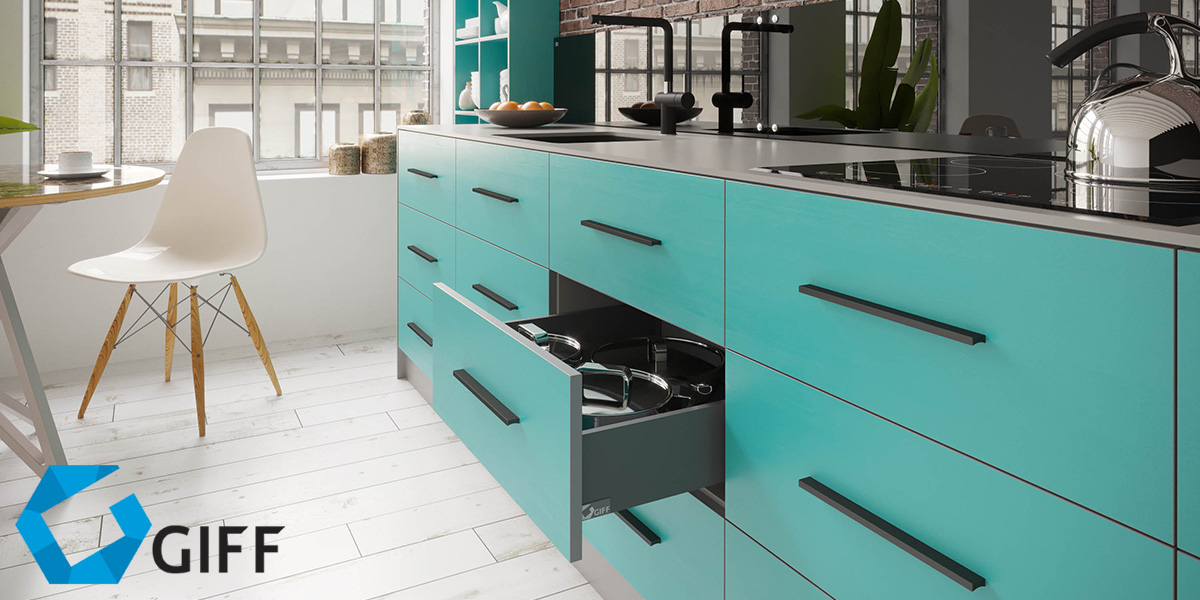 GIFF trademark includes a wide range of accessories for the furniture: from handles and hooks to the props and hinges. GIFF products combine durability and stylish design for an affordable price. Accessories will last for many years: the metal coating is not erased, the internal moving mechanisms provide lasting comfort in use. Such high operating parameters are achieved due to a regular quality control in manufacture.
We monitor the latest trends in the branch of interior design, so the range of accessories updates constantly. It covers a wide variety of styles that can satisfy the needs of a huge audience of customers.
GIFF are affordable, stylish and reliable accessories for everyone.
Benefits:
long time exploitation,
a unique design and a variety of styles,
a wide assortment,
average prices.
Product line:
Front accessories of GIFF brand are designed in classic, modern and retro styles. The assortment includes:
Sliding mechanisms of different sizes and types realize any creative idea, will reliably last for many years. Includes:
Roller-bearing rails, including door closers, OneTouch system and invisibly installing mechanisms
Ball-bearing rails.
GIFF hinges are designed for the most common materials, such as glass and chipboard. Loops are one of the most invisible elements of furniture for the buyer, but their quality and functionality determines the durability of furniture. The company Kronas offers its customers a full range of hinges existing on the market. We provide optimal solutions for properties, functions and price.
Elevating mechanismsare installed in the upper base of the cabinets. Allow to lift facades, revealing a complete overview of the cabinet's contents. Provide comfort in any room, differ in long service lives.
Range of fixing accessories include all the necessary components for the assembling and installation of furniture:
couplers,
corners,
holders for shelves and cabinets,
fixators for mirrors and glass.
Accessories for the kitchen optimally organize the inner space of the shelves and lockers. High-quality stainless steel retains the original appearance for many years. We offer:
Dryers for dishes,
Storage baskets,
Pull-out baskets,
multi-level corner baskets,
decorative fences,
Fillers for wardrobes combines a concise and functionality. Strict design complements the furniture in any style, high-quality materials and accurate assembly guarantee a long-lasting comfort and service. The range includes:
wardrobe lifts,
hangers for accessories,
shelves for shoes.
Lampsof GIFF will bring warmth and comfort to anyone at any time. Fit into furniture for all rooms. Apart from the lighting, the range includes all the necessary parts and accessories like: caps, mounts, power supply units.
Furniture propsare made of the best grades of steel and aluminum. Additional coverage provides a unique look and element of completeness to the interior. The range includes:
adjustable props,
non-adjustable props,
props for tables,
wheeled props,
furniture pads.