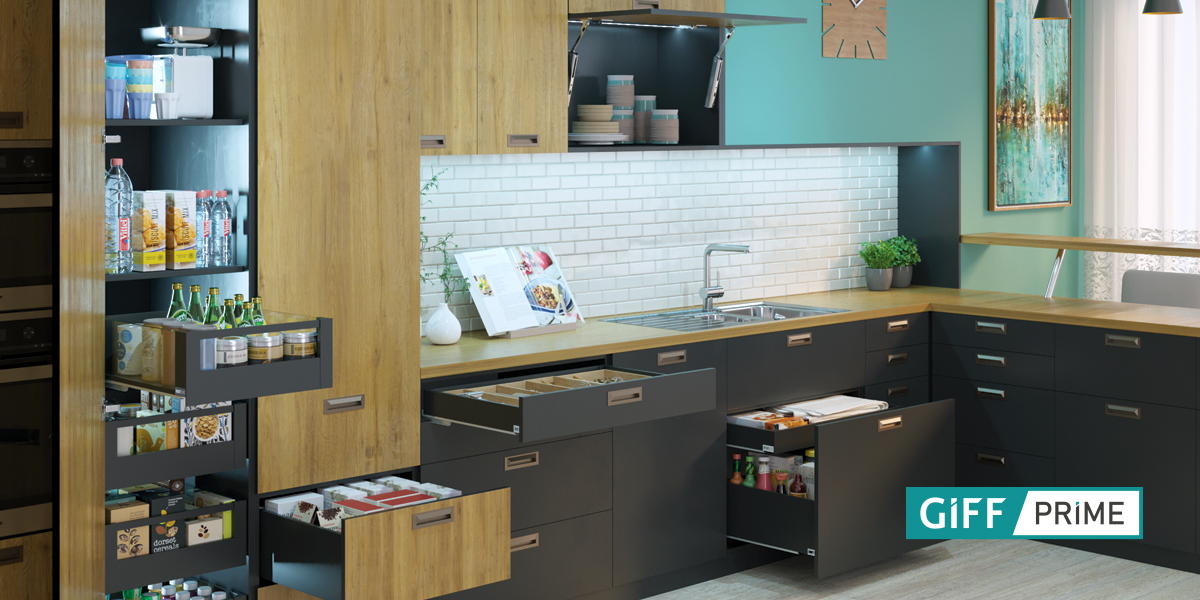 GIFF PRIME – SOLUTIONS FOR DESIGN OF MODERN FURNITURE
The line of functional fittings GIFF PRIME is created on the basis of the most modern technologies and is distinguished by high quality and reliability. At GIFF PRIME you will find everything you need to create comfortable and durable furniture: various drawer systems and hinges.
FLATBOX GIFF PRIME DRAWER SYSTEM
FlatBox is an intelligent drawer system that combines sleek design with impressive technology. This is the choice for those who value comfort even in the smallest detail and strive to embody modern trends in furniture creation. The line includes boxes with metal and glass sides with a height of 84, 116, 167, and 199 mm and a depths from 300 to 550 mm in white and graphite colors, as well as panels and fasteners for mounting internal boxes. The resource of the boxes is 100 thousand opening cycles, which corresponds to 65 years of operation.
GIFF PRIME 3D HIDDEN DRAWER SLIDES
The GIFF PRIME 3D slides are mechanisms, the functionality of which ensures the most convenient operation and impeccable appearance of furniture. The assortment includes guides with soft-close and push-to-open features for 16 and 19 mm plates.
GIFF PRIME SIDE MOUNTING SLIDES
The reliability and excellent running characteristics of the GIFF PRIME side-mount rails ensure stable operation and maximum comfort. Sliders with a soft-close, with a push-to-open, and an exclusive solution - the combination of soft-close and push-to-open devices in Smart Touch sliders open up new possibilities in furniture design.
GIFF PRIME FURNITURE HINGES
The GIFF PRIME presents a series of modern hinges that combine European design and advanced technology.
The GIFF PRIME assortment includes hinges for installing the facade at an angle of 90 ° to the body and hinges for corner facades 30, 45, 180, - 30, -45 °, which makes it possible to use one line of hinges for all possible installation options of facades. The service life of the hinges is 100 thousand opening cycles, which corresponds to 65 years of operation.